Cloud Management Platform (CMP)
View and manage your entire Public, Private or Hybrid Cloud estate (including AWS and Azure) through a single screen
Simplifying your billing and increasing the agility of your Cloud services, our CMP gets you above the Cloud, clearing the way for your IT team to swap administration for innovation.
Exponential-e's
Cloud Management Platform
Our CMP provides a single-service interface, enabling you to connect your existing private Cloud services with any public Cloud services
(including Amazon Web Services,Microsoft Azure.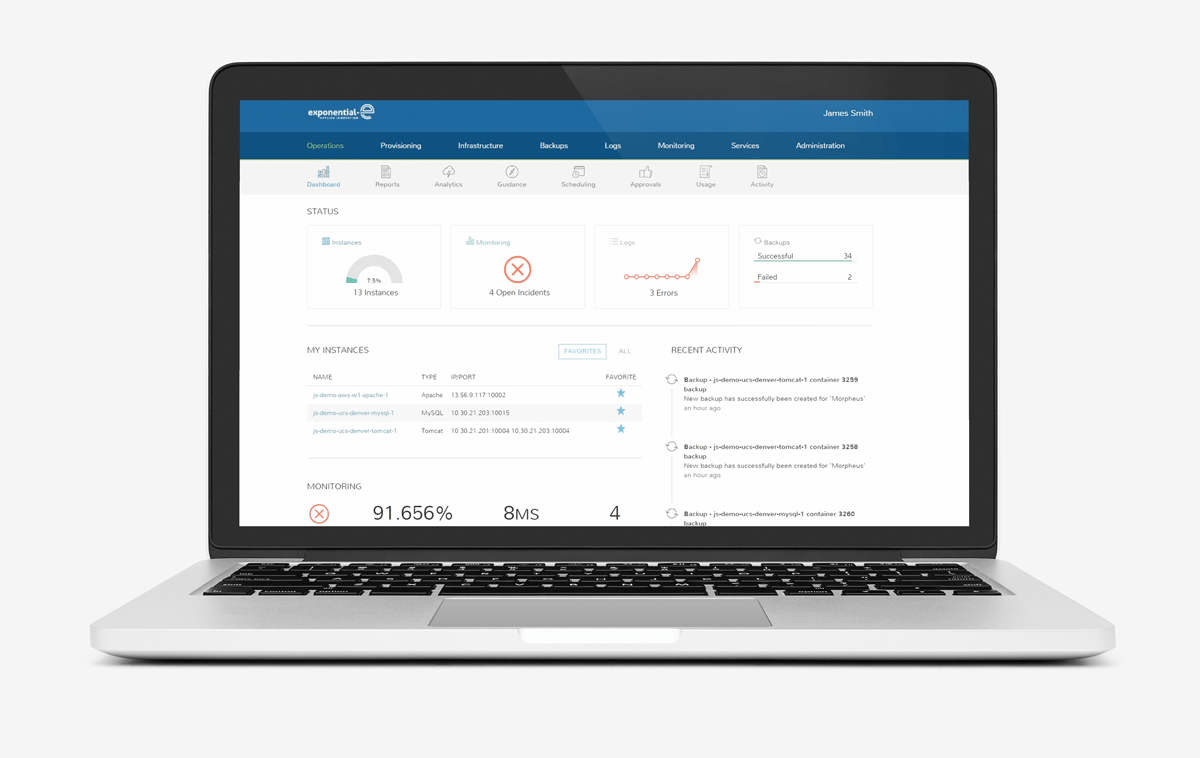 Automation: Deploy apps 150x faster
Use self-service provisioning tools to improve and deploy your applications at speed. Attain continuous integration and delivery with Infrastructure-as-Code scripting.
Analytics: Cut your Cloud costs by 30%
Optimise your hybrid cost and performance with an inbuilt analytics engine that offers real-time guidance on cross-Cloud spend, tariff optimisation and service level management.
Production: Reduce risk across the app lifecycle
Simplify day-2 ops with elastic and hybrid scaling, and native and third-party logging, availability and performance monitoring, backup and migration.
Governance: ensure compliance across multi-cloud
Take granular control of your clouds, restricting user access, eliminating cloud sprawl through approval and extension rules, and tracking and managing costs.
Centralised billing: 'One Bill' for all your clouds
Access our 'One Bill' service via the CMP to collect and integrate your private and public cloud bills into a single bill that lets you pay for every cloud in one go.
With the CMP to support it, your IT team can be truly unstoppable: free to deliver innovation and drive digital transformation; free to go 'Beyond Boundaries' - and leave your competitors behind.

How our CMP delivers
value
In today's business climate, digital innovation is the name of the game. It's what you need to make your business stand out from the crowd, and to deliver more value to your customers.
Choosing the right Cloud - or Clouds - to support this innovation is vital.
Using a single Cloud provider is simple, but restrictive. Using multiple Cloud providers gives you more flexibility but also brings complexity.
How do you get the best of both worlds: the simplicity of a single service provider and the flexibility to choose best-of-breed for your business needs?
One central bill for public and private services
Role based access controls and permissions across the portfolio, to effectively govern and procure efficiently and within the business' compliance boundaries.
We call this the Power of One: a concept that our Cloud Management Platform (CMP) makes real for your business.
What next?
Getting started with our Cloud Management Platform is simple and straight-forward:
Define your Cloud environment
Define which Clouds you want access to, whether it's:

your on-premise services,
Exponential-e's Private and Multi-Tenant services, or
the Public Cloud (AWS and Azure) - with Google and AliBaba.
What to do if you already have a public AWS or Azure account
You can choose between:
Binding: Connect your existing accounts while retaining ownership of billing, therefore not taking advantage of one centralised bill.
Novating: place your existing AWS and Azure accounts under a single central Cloud Service Provider model, with no need to re-sign any agreements. This will allow centralisation of service and billing, with opportunity for wider commercial benefits.
Automated enrolment and setup
Let the journey begin with our automated enrolment service.
Full self-service in life: Grow, scale back, and add new clouds all through our fully automated service model.
Wherever you are on your journey to Cloud transformation,
Exponential-e can support you
If you're building a
digital transformation strategy:
Set up a free strategy session with our CIO and consultants team to discuss Cloud transformation options and how to embed the CMP in your service integration and management (SIAM) framework.
If you're already on
a digital transformation journey:
Want to rapidly get the CMP benefits within your business? Get straight to the point with our Cloud Solutions Consultants and Specialist team.
IT leaders are excited about our CMP
In July 2018, we launched our Cloud Management Platform, and invited IT leaders to join us for networking and insights. Watch this video to hear their first impressions on the many benefits that our CMP can bring to businesses.
Conquering multi-cloud complexity
One Cloud doesn't fit all. Digital transformation is non-optional, but to transform your business multiple Clouds will be necessary. This creates logistical and management complexities that you will need to solve. Let Exponential-e show you how to do this with the Power of One.
To get an understanding of how our CMP will help you to manage operational efficiency and deliver new services at speed, watch this webinar from our Chief Innovation Officer, Jonathan Bridges.
He takes you through how we simplify multi-cloud management to build Clouds, deploy apps, and gain insights faster all under one roof and one contract.
Download our report: Limitless Innovation
In business, as in life, change is the only constant. The smartest organisations embrace this; the most cursory glance at the business landscape is enough to establish that only the most adaptive survive. And that means the most innovative.
Discover how your technology can bring value beyond the boundaries of traditional IT with integrated Private and Public Cloud solutions.
Read our latest Cloud blogs
*Calls to 0845 numbers will cost 7p p/m plus your phone company's access charge.
All inbound and outbound calls may be recorded for training or quality purposes.