Remote Access Control Service
Enabling users to securely access company resources and applications from any location and any device
As business becomes mobile and the distributed workforce becomes the new norm, it's essential to offer your teams secure remote access to company resources, wherever they are located. Remote Access Control simplifies this, while maintaining security across all devices.
Meeting your business objectives
Our Remote Access Solution is a modern access solution for all critical resources including apps, infrastructure, and APIs. A cloud‐based platform to unify, identity and manage access across employees, contractors, and partners - we help the business to securely move to the cloud.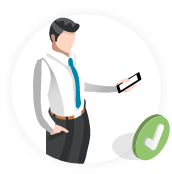 An end-to-end Remote Access Solution combining Universal Directory, Multi-factor Authentication Soft token, Single-Sign-On and encrypted VPN with End-Point analysis / NAC access.
Our RAS solution is built in partnership with two leading vendors.
Uses both Secure Socket Layer (SSL) clientless connectivity and Agent based IPsec Connectivity to provide base connectivity.
Our solution securely integrates with either the customers' active directory or makes use of the universal directory.
A single pane of glass model to allow access to a range of applications, which can be managed centrally by an admin portal.
Provides Always-On connectivity, which automatically reconnects if a user moves between networks.
Reporting includes exhaustive usage and response time details, allowing rapid triage of any connectivity or performance issues that arise.
Network Access Controls are overlaid, which can range from simple checks such as IP-based filtering to more advanced customer-side checks such as the presence of malware.
Solution available from any device, including tablets and smartphones.
Authentication with a login experience, which leverages out of the box workflows and the ability to build a customised experience.
MFA requires multiple ways to verify a user before they can access applications. The MFA solution is adaptive to changes such as user and device behaviour.
Maintains all users, groups, devices and policies in one place, which is hosted in an Identity Cloud.
Ability to control which APIs the users and developers have access to, with fine grained standards-based authorisation policies, with the ability to implement role-based access to control applications.
Create seamless single-sign-on experiences and manage user lifecycle with automated on-boarding and off-boarding. Easily connect users with popular third-party clouds and on-premise application, using the vendor partner's extensive network.
Create directory integrations into existing enterprise IDP and support for SAML and WS-Fed connections so users can sign in with their existing identity provider.
Seamless migration and fully supported along the journey through dedicated Sales Specialists, Solutions Consultants, Delivery Experts and our 24 / 7 UK Support Desk.
Extensive partnership agreements with key suppliers to support customer transition.
Fully managed end-to-end solution for complete peace of mind.
Additional support from Exponential-e's own (CSOC), if required.
Working closely with the BSI to achieve and maintain our 10 ISOs/Standards.
Read our latest cyber security blogs
*Calls to 0845 numbers will cost 7p p/m plus your phone company's access charge.
All inbound and outbound calls may be recorded for training or quality purposes.