Empowering firms to improve people processes, client collaboration and drive digital innovation


Professional services firms need to maximise productivity and efficiency of people and operations in order to remain competitive; from accountancy and architecture, to engineering and recruitment.
Technology leaders within professional services are faced with:
Large proportion of mobile/remote workers, driving the need for IT-enabled workforce mobility - responsive and secure 'anytime, anywhere' data access
A need for network agility and flex, in line with shifting client demands
Increasing IT security compliance driven by regulation
Greater client expectation for digital services, collaboration and communication
Discover how Price Bailey increased network speed x 25 and used VDI to enable enterprise mobility
We have worked with over 400 Professional Services firms
Business services
Providing secure, scalable and reliable IT solutions that equip professional services organisations with the agility and resilience to operate in a changing landscape.
Driving digital enablement across the industry through world-class cloud, connectivity and communications solutions.
Architecture
Providing technology and infrastructure that powers highly complex design and innovation.
From cloud solutions to meet compute power needs to GPU powered virtual graphics that allow remote access to all critical applications, including 3D modelling-intensive software, via any device.
Accountancy
Providing cloud, connectivity and communication solutions to help firms increase efficiency, keep client data secure and meet regulatory requirements around data and disaster recovery.
1 in 3 AIT firms run on Exponential-e solutions.
Our professional services solutions
Exponential-e has been delivering world-class connectivity, cloud and communications solutions for over 15 years.
Connectivity
High performance, secure Connectivity between sites - keeping your data secure and accessible, regardless of where in the world you are.
Software Defined Network technology bringing agility to network resources and assets.
One of the UK's most secure carrier Networks, with global presence.
Cloud
Empower your workforce with 'anytime, anywhere' data access from any device - securely and efficiently.
Secure Cloud environment, conforming to the most stringent security requirements including the CSA Star Cloud security accreditation and ISO 27001 with guaranteed data sovereignty.
Flexible solutions and engagement models tailored to meet your business needs.
Communications
Streamline case management with reliable and secure communications solutions, bringing together internal and external stakeholders on a shared communication platform.
Maximise productivity and billable time with efficient and secure collaboration platforms.
Meet regulatory demands with call monitoring and recording, and the secure hosting of this data.
JAM, a fast growing and innovative recruitment consultancy significantly improves business operations with Exponential-e.
JAM, a fast growing and innovative recruitment consultancy significantly improves business operations with Exponential-e.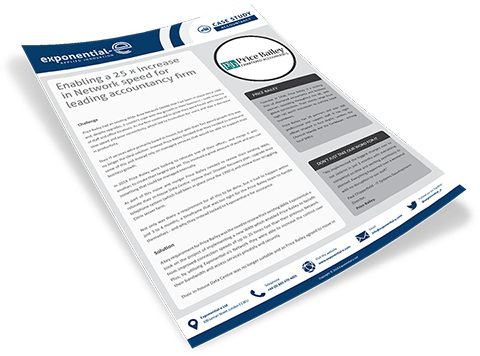 Enabling a 25 x increase in Network speed for leading accountancy firm
Price Bailey had an existing Wide Area Network (WAN) that had been in place since 2008 and, despite upgrades, it couldn't cope with the growth in their business – both in terms of staff and office locations. As the firm continued to grow they were faced with issues of slow speed and poor connectivity, which led to frustration for users and also a decrease in productivity.
London Head Office - 100 Leman Street, London, E1 8EU - Tel: 020 7096 4100 | Manchester Office - 3 Hardman Street, Manchester, M3 3HF - Tel: 0161 669 4050
*Calls to 0845 numbers will cost 7p p/m plus your phone company's access charge. All inbound and outbound calls may be recorded for training or quality purposes.