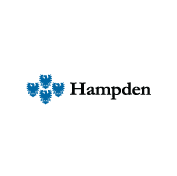 Hampden Group
Overview:
Major insurance group, improves efficiency & scalability. Solution improves compliance with FSA data security requirements.
Solution:
Hampden Group has been providing administrative and claims services to the insurance industry since 1979. More recently, through strategic acquisitions and product development the Group has diversified into providing Members' Agency services and is now the largest Members' Agent involved in the Lloyd's market.
Challenges
Following an acquisition, Hampden Group incorporated an additional site in High Wycombe to its existing sites in London and Buckinghamshire. These separate locations, communication systems and differing connection speeds made the Network inefficient and lacking the performance that its business users required for transferring data files within the Group.

A 2Mb leased line connected one of the Buckinghamshire sites to the main office in London. The newly acquired company in Buckinghamshire was linked via VPN on a DSL circuit. The existing Network design meant that the download speeds between offices was sufficient, but transferring data in the other direction was significantly slow - hindering the business from carrying out simple tasks such as transferring files between offices or printing large accounting and tax documents remotely.

With disparate legacy voice systems, the Group recognised the need to consolidate costs by rationalising the voice systems in place. But with restrictive bandwidth, bottlenecks were occurring on the existing connections, preventing any rationalisation of the systems.

In addition, maintenance, support and separate ISDN lines were needed for every PBX, which all added to costs and inefficiencies of the existing voice systems. Recognising these challenges, Hampden Group decided it needed to make fundamental changes to the infrastructure between its disparate offices. These new connections would need to be robust enough for handling voice and transferring large accounting or tax files across all sites.
Solution
Meeting the challenges of Hampden Group's existing Network connections would require high-bandwidth, low latency connections linking all three offices. Additionally, connectivity into a data centre would be needed for centralising and consolidating certain core Network components.

Having worked with Exponential-e for the provision of a business-class internet connection, the Hampden Group was fully aware of the excellence in service and Network design available and turned to Exponential-e again for a Wide Area Network (WAN) solution. Andrew Hough, IT Manager, Hampden Group explained:
"Beyond the technical capabilities, service was a key factor in appointing Exponential-e for this project - everything happened when we were told it would happen. There was easy access to someone who knew exactly what was going on – a really refreshing change."

As the Group's London office was already connected to Exponential-e's 100GigE core Network for Internet access, this circuit would be used for communicating with the other offices and a data centre. However, the two offices in Buckinghamshire still needed a link to Exponential-e's core Network, so 100Mbps and 10Mbps circuits were installed to these locations.

Connection to the data centre was also configured in the same way, which made it seemingly appear on the same private Local Area Network (LAN) as the three offices. The Internet bandwidth was routed to this data centre where a centralised firewall was installed; allowing for one Internet connection, firewall and other security devices to service all three offices. This configuration also allowed Hampden Group to install additional core Network components in the data centre, including a Citrix gateway, email gateway and phone PBX, recorder and logger.

All of these point-to-multipoint connections were configured using a Virtual Private LAN Service (VPLS) over Exponential-e's core Network. VPLS is similar to traditional LAN based switching - providing a secure, private, high-speed WAN linking all sites together. Configuring the WAN in this way also gave the Group full control over its Network; allowing changes to be made quickly without engaging an outside vendor.

By connecting the four sites in this manner, the Group was also able to comply with FSA data security requirements as all traffic between offices and the data centre travels across completely private and dedicated connections.
Benefits
The Hampden Group now has a Network infrastructure across multiple sites, which is no longer a hindrance to the business. Users are able to access data and systems across the Group with increased mobility. Large files and Voice connectivity are no longer a problem for the Network and the Group's IT infrastructure is now fit for purpose - meeting the business' requirements with improved flexibility, efficiency and performance. Andrew Hough, IT Manager, Hampden Group explained:
"The overriding gain is user satisfaction. We are able to provide better access to systems across the Group."
Increased capacity across multiple sites.
Improved access to data with symmetrical upload and download speeds.
Enhanced mobility for workers.
FSA data security compliance.
London Head Office - 100 Leman Street, London, E1 8EU - Tel: 020 7096 4100 | Manchester Office - 3 Hardman Street, Manchester, M3 3HF - Tel: 0161 669 4050
*Calls to 0845 numbers will cost 7p p/m plus your phone company's access charge. All inbound and outbound calls may be recorded for training or quality purposes.