Enterprise File Services:
Storage Gateway
Cost-effectively expand your storage capabilities
by supporting central data protection
Digital transformation is driving significant growth in terms of the data stored in the cloud. Our Storage Gateway Service helps you manage this growth, replacing existing file storage systems and integrating with your preferred Cloud environments, for fast and secure file access.
What are Storage Gateways?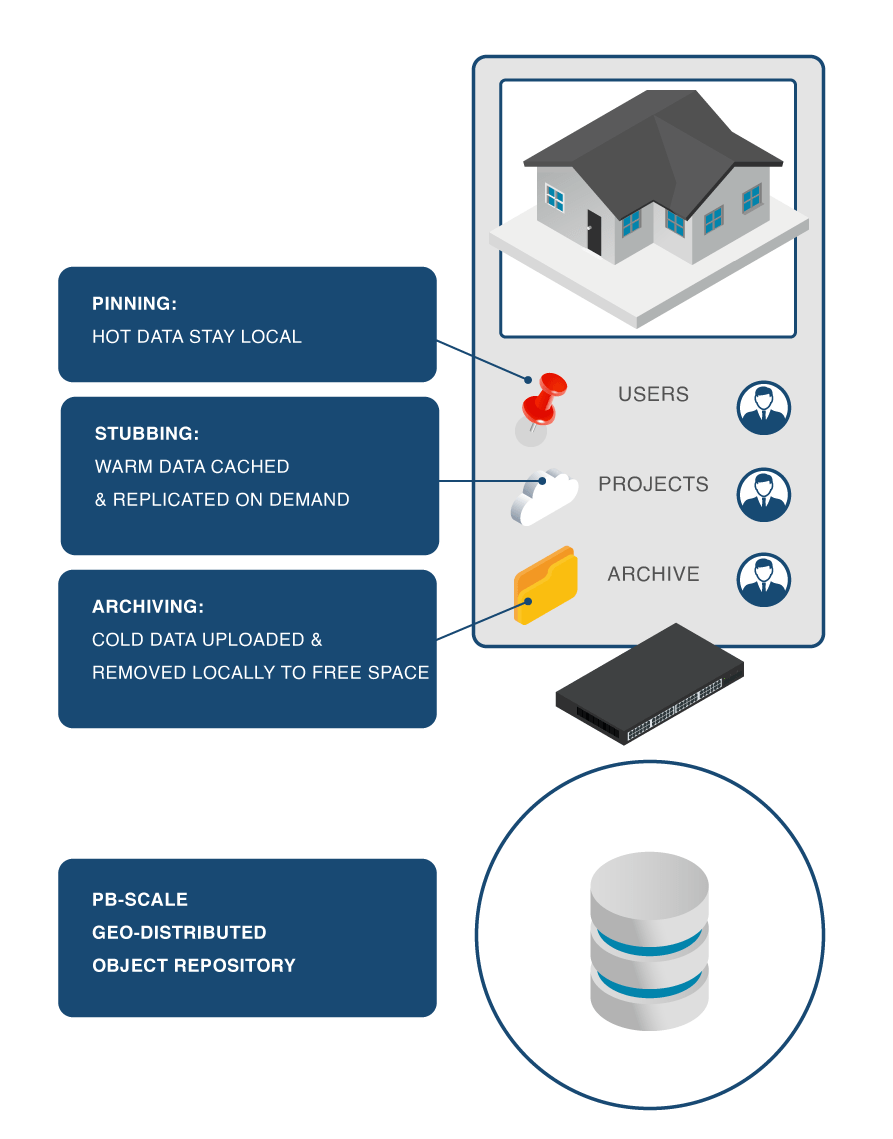 The Storage Gateway Service provides you with an Infrastructure-as-a-Service platform that combines on-demand file services, automation, and support for software-defined data centres. Exponential-e will design, build and implement the service, in collaboration with your IT team, then provide ongoing management and 24 / 7 support, for maximum service availability.
How it works:
Local virtual or physical appliances are stored at your geographic locations or in the Cloud.
A cache of data is kept locally for fast local access. This data is replicated to each Storage Gateway location to ensure consistency across the business.
Different cache policies can be applied to each gateway, based on the location's requirements.
All data can be protected centrally in the cloud, using Exponential-e's geo-protected Exponential-e's Cloud Object Storage.
Files which are not locally cached on the gateway are stubbed so that they can be pulled back from the centralised Cloud Object Storage upon access request.
Cold data can be auto-archived to Cloud Object Storage, freeing up capacity on the local Storage Gateway.
As data is present in all locations, collaboration can be applied as a follow-the-sun model, making it simpler and easier to edit content from all locations.
Key use cases:
Direct replacement of file servers, with consolidation and optimisation of delivery.
Direct replacement for file sync and sharing solutions, such as Dropbox.
Archiving capability, with lifecycle management policies.
Reduction in cost of backup for unstructured data.
File collaboration and versioning across multiple locations.
Direct integration with Active Directory authentication, allowing seamless integration with users.
Meeting your business objectives
The Storage Gateway Service offers:
Efficient information lifecycle management, driving down costs and enhancing control, governance and security.
Seamless collaboration, by making content available in multiple locations at the same time.
Enhanced security and file sharing, with full encryption of service- and role-based access governance, in line with the GDPR and applicable data security legislation.
Effortless collaboration between staff, teams, client and consumers, with a rich range of unstructured data types.
Flexible and scalable consumption and storage of unstructured data.
Data compliance and information lifecycle management.
Reduction in IT operational overheads & WAN utilisation
Enhanced security through corporate identity and access management.
Data sovereignty and compliance.
Quick time to delivery and implementation.
Storage Gateway Appliances
Storage Gateway appliances are available as physical and virtual appliances on Exponential-e and public cloud environments. High speed I/O to data is possible with the option of enhancing appliances with SSD storage.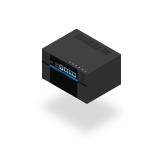 Small Office:
5-20 Users
2-Bay, up to 8TB RAW, RAID - 0/1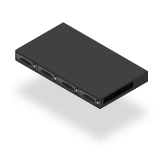 Branch Office:
20-100 Users
4-Bay, up to 16TB RAW, RAID - 0/1/5/6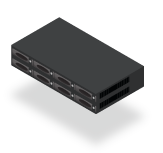 Branch Office:
100-150 Users
8-Bay, up to 32TB RAW, RAID - 0/1/5/6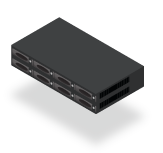 Branch Office:
150-250 Users
8-Bay, up to 32TB RAW, RAID - 0/1/5/6
Single pane of glass
Centralised data management and appliance administration is provided via a single pane-of-glass portal, which is accessible by both you and Exponential-e.
This Central Management platform can enforce centralised data protection polices, such as Enterprise Mobility Management (EMM), Data Loss Prevention (DLP), and Anti-Virus (AV) across the stored data.
The Central Management platform also allows you to control the way data is managed across the Storage Gateway Service, as well as manage all of the relevant policies concerning data caching and data replication to other appliances.
Read our latest Cloud blogs
*Calls to 0845 numbers will cost 7p p/m plus your phone company's access charge.
All inbound and outbound calls may be recorded for training or quality purposes.