Endpoint Protection Service
Monitoring Endpoints for abnormal behaviour
Hackers do not use the same actions twice to steal data, moving laterally across the network attempting to take information and holding businesses to ransom. Exponential-e's Endpoint Protection combines the latest technology with a fully managed service, for complete peace of mind.
Meeting your business objectives
With IT teams struggling for resources, tasks such as looking at logs and investigating alerts from endpoint and Anti-Virus solutions quickly fall down the 'To-Do' list. Hackers do not use the same actions twice to steal data, moving laterally across the network attempting to take information and holding businesses to ransom. Ransomware/Malware can spread and infect within minutes, crippling an organisation.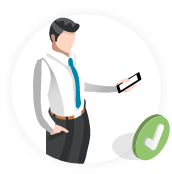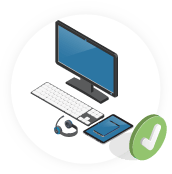 Based on a market leading vendor with a service wrap that monitors and alerts organisations backed with a team of specialists.
These specialists monitor the endpoints for abnormal behaviour, manage the updates of the software itself and alert the necessary teams at the customers' business.
Cloud based solution, making it low touch for customers. Updates are tested rigorously before being rolled out, which means that there is little need for IT teams to get involved.
We have a dedicated SOC team, monitoring, analysing and remediating threats.
Behaviour based detection of threats - monitors and analyses all behaviours on a machine, utilising full context analysis rather than looking at individual behaviours.
Autonomous lightweight agent - The agent acts independently and needs no outside intelligence to make decisions.
Automated policy-based mitigation - When a threat is identified, the agent will automatically kill and quarantine the associated processes and tiles.
Threat remediation at machine speed - The agent is able to undo any malware driven changes on a machine.
Auto-immunisation of all endpoints - When a new threat is identified by the agent, all the other agents are notified, allowing them to stop the threat instantly.
Real time, full context forensics – We leverage detailed forensic information in real-time to allow our SOC Team to make quick and informed decisions about what actions to take.
Dynamic exploit detection and prevention to spot attacks that enter via a weak component (i.e. Browser, OS.). The agent sees all low-level processes, being able to spot and stop these threats.
This allows us to rollback deleted or encrypted files to a pre-execution safe state without introducing any additional overheads.
Proactively block known threats - By leveraging blacklisting technology, it stops known threats before they are able to execute.
Admin defined application control - This allows admins to have full control over what applications run on the protected Endpoints.
Threat behaviour and IOC (Indicators of Compromise) hunting - By leveraging Deep Visibility the SOC Team is able to search historical activity for IOC or visits to known phishing sites to alert otherwise unwitting users to possible compromise.
Gain back hours managing endpoint security by allowing Exponential-e to take the problem away
Protect endpoints and servers with a strong solution
Virtual patching, which is a key challenge and the easiest route for hackers to gain access to machines and networks
Read our latest cyber security blogs
*Calls to 0845 numbers will cost 7p p/m plus your phone company's access charge.
All inbound and outbound calls may be recorded for training or quality purposes.