Integrated and Managed DDoS Protection
within your Network - at a competitive price
We see the Network, we monitor the Network and we can protect your business with automatic DDoS mitigation services from our Network core. Regardless of what internet facing security you may already have, we understand your specific Network traffic profile and defeat DDoS attacks before they reach your defences.

Distributed Denial of Service (DDoS) attacks take down online services and cause huge financial burdens, and they are on the increase by over 100% year on year. Connection to the Internet is now a business imperative but it is also the biggest threat to businesses today - meaning intelligent cyber security is required now more than ever.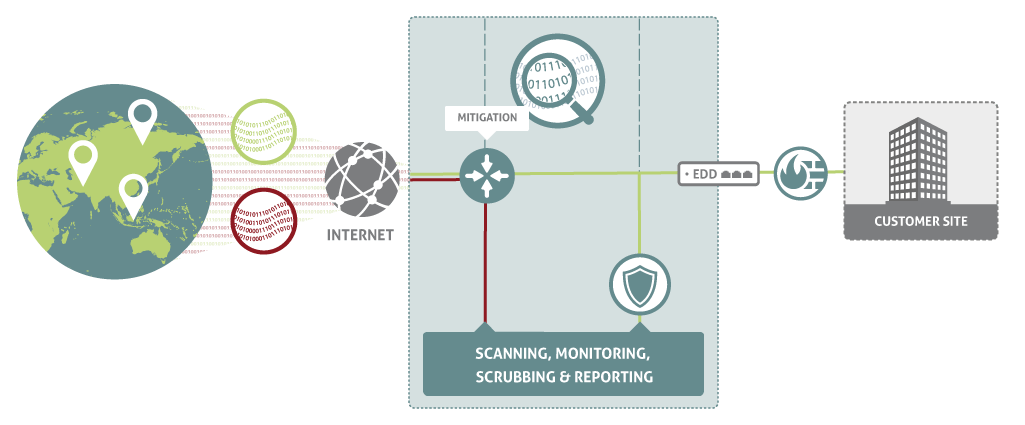 0
% of UK Companies were hit by DDoS attacks in 2015
0
% increase in DDos attacks
0
% of companies were hit more than once.
0
% of companies attacked lose customer data, intellectual property or funds.
As DDoS attacks are on the increase we want to make sure that our customers are protected. The DDoS 999 offer gives you access to our DDoS Primary Mitigation Service at a fantastic price of: £999 per month plus VAT.
What are the key benefits of

DDoS Mitigation
A valuable layer of additional security.
No configuration required as you don't have to change your Firewalls, policies or the experience of your users.
Immediate protection from known bad IP traffic.
See and understand your own traffic via reports and a service portal.
You don't need to learn new skills or look to change suppliers.
Be aware and prepared in the anticipation of a Cyber Security attack.
Automatic 'always on' monitoring of your internet traffic.
A real time view of your Internet traffic, volumes and traffic type.
Access to generating reports from the platform.
The ability to have a specific protection profile for your critical Network facing assets.
Network protection is connected to the latest global threat intelligence - which means quicker identification of bad traffic.
Best of breed solution using tried and tested technology from a market leader.
London Head Office - 100 Leman Street, London, E1 8EU - Tel: 020 7096 4100 | Manchester Office - 3 Hardman Street, Manchester, M3 3HF - Tel: 0161 669 4050
*Calls to 0845 numbers will cost 7p p/m plus your phone company's access charge. All inbound and outbound calls may be recorded for training or quality purposes.